CIBoG/GTR Joint Seminar: Apprehending structural and functional diversity of glycans. 15:00-16:30 (On Zoom) on Jan 18 (Mon) , 2021
CIBoG/GTR Joint Seminar 開催
日時:Jan 18 (Mon) , 2021: 15:00-16:30
On Zoom
"Apprehending structural and functional diversity of glycans"
Dr. Yann Guérardel
Director, Institute for Structural and Functional Gycobiology (UGSF), UMR, CNRS, Lille University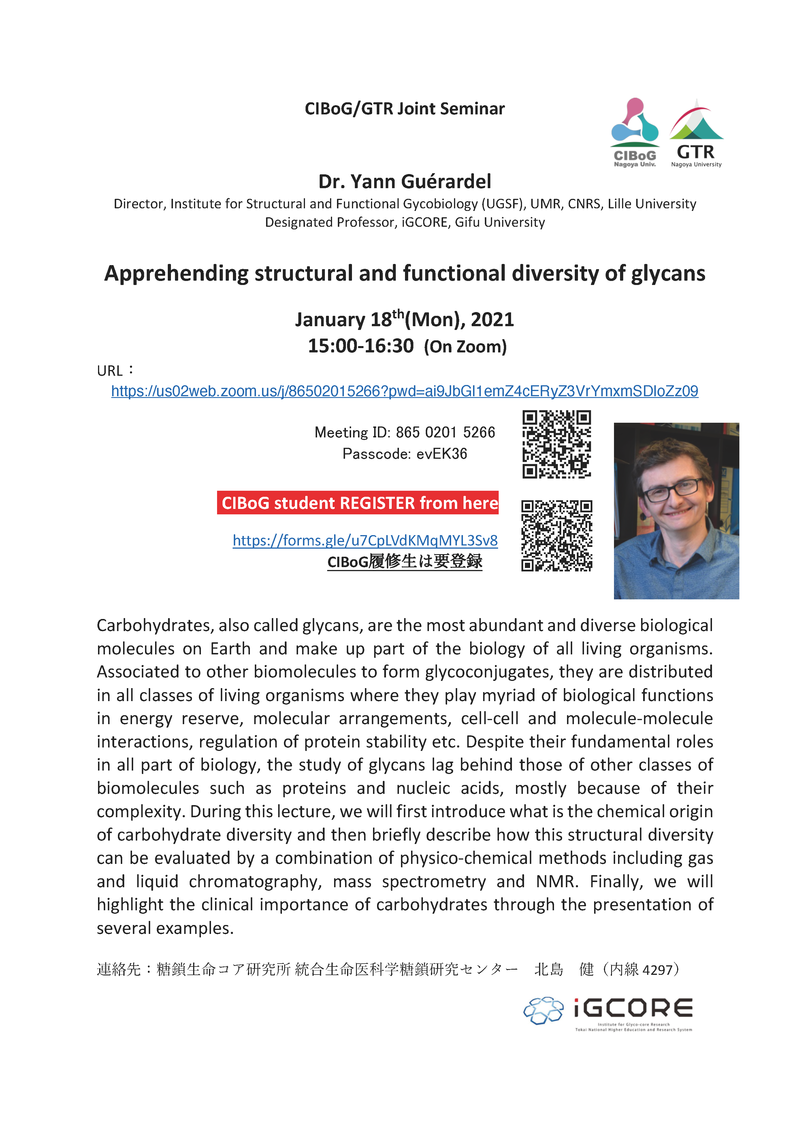 Designated Professor, iGCORE, Gifu University
URL:https://us02web.zoom.us/j/86502015266?pwd=ai9JbGl1emZ4cERyZ3VrYmxmSDloZz09
Meeting ID: 865 0201 5266
Passcode: evEK36
CIBoG student REGISTER from here
https://forms.gle/u7CpLVdKMqMYL3Sv8
CIBoG履修生は要登録
Abstract
Carbohydrates, also called glycans, are the most abundant and diverse biological molecules on Earth and make up part of the biology of all living organisms. Associated to other biomolecules to form glycoconjugates, they are distributed in all classes of living organisms where they play myriad of biological functions in energy reserve, molecular arrangements, cell-cell and molecule-molecule interactions, regulation of protein stability etc. Despite their fundamental roles in all part of biology, the study of glycans lag behind those of other classes of biomolecules such as proteins and nucleic acids, mostly because of their complexity. During this lecture, we will first introduce what is the chemical origin of carbohydrate diversity and then briefly describe how this structural diversity can be evaluated by a combination of physico-chemical methods including gas and liquid chromatography, mass spectrometry and NMR. Finally, we will highlight the clinical importance of carbohydrates through the presentation of several examples.
Biography of Dr. Yann Guérardel
2003-2004 Post-doctoral fellows, Institute of Biological Chemistry, Academia Sinica, Taiwan
2004-2013 Research Fellow for the CNRS, UGSF, UMR CNRS 8576, Lille University, France
2006 Invited Professor, University of Nagoya, Japan
2013- Research Director for the CNRS, France
2013-2019 Executive Director, Institute for Structural and Functional Glycobiology. Lille, France
2020- Director, Institute for Structural and Functional Glycobiology. Lille, France
2020- Designated Professor, iGCORE, Gifu University, Japan
連絡先:糖鎖⽣命コア研究所統合生命医科学糖鎖研究センター
北島 健 (内線 4297)