April 02-11, 2020

Briefing for recruitment of 2020 CIBoG program will be held

April 2: Guidance of Master Course,Graduate School of Medicine, 14:00- , the 2nd Conference Room, Basic Res Bldg, Tsurumai Campus
April 6: Guidance of Integrated Health Sciences, Graduate School of School of Medicine (Integrated Health Sciences), 9:30- , Large Lecture Room, East Bldg, Daiko Campus

Canceled because of spreading CORONA virus!!

April 7: Guidance of Graduate Schools in Higashiyama Campus, 17:00-18:00, Practice Room, Information Technology Center 2nd Fl
April 11: Guidance of Doctoral Course was canceled. After 4/13, ask the student affairs Office.

 
February 7-8, 2020

 
Developing distinguished leaders who can create and lead new fields of study in medical and health sciences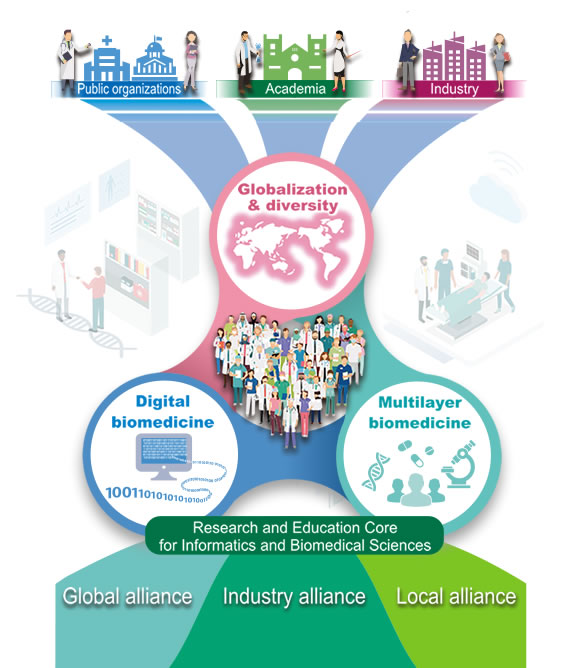 In the future, healthcare will shift from individualized treatment to individualized preventive medicine.
New approaches to biomedical sciences based on data science (normal state, pre-disease state, disease state)
Digital medicine (development of biomarkers and devices, AI-based drug discovery)
Realization of smart hospitals (AI-based diagnosis, IoT, intervention from the pre-disease stage)
Fostering the development of researchers who
Have mastered informatics and biomedical sciences
Can lead the creation of individualized preventive medicine globally
Will realize social implementation of individualized preventive medicine, as researchers in academia or the industry, or as government officials or entrepreneurs
Features of the curriculum
Development of international sensibilities through the Joint Degree Program (JDP), Global Alliance of Medical Excellence (GAME), and Maureen and Mike Mansfield Foundation programs
Cultivation of the ability to panoramically understand the multiple levels of biomedical sciences (molecules, cells, tissues, individual organisms, and groups of organisms)
Development of AI-based technologies to realize individualized preventive medicine
Research and education
Forming the basis of informatics and biomedical sciences
Unique global alliances
Local alliances that takes advantage of the resources in the Tokai area