Graduate Schools / Majors
Nagoya University
Graduate School of Medicine (Departments in Integrated Medicine; International Collaborative Programs in Comprehensive Medical Science between Nagoya University and the University of Adelaide, between Nagoya University and Lund University, and between Nagoya University and the University of Freiburg; Departments of Integrated Health Sciences; Departments in Medical Sciences)
Graduate School of Bioagricultural Sciences (Department of Applied Biosciences)
Graduate School of Informatics (Department of Computing and Software Systems, Department of Intelligent Systems)
Graduate School of Pharmaceutical Sciences (Department of Basic Medicinal Sciences)
Gifu University
Graduate School of Natural Science and Technology (Department of Life Science and Chemistry)
Admissions schedule of AY2023
*The Number of Students to be admitted to the Program
1) Approximately 15 Master's students in total from the above-mentioned departments of Nagoya University and Gifu University will be admitted.
2) Approximately 5 Doctoral students in total from Department in Integrated Medicine, International Collaborative Programs in Comprehensive Medical Science between Nagoya University, and the University of Adelaide, between Nagoya University and Lund University, and between Nagoya University and the University of Freiburg will be admitted.
*Primary selection Method
・Primary selection is an screening of application documents in each graduate school.
・Results of secondary selection will be announced via email by the Office of CIBoG (Med) on  April 14(Fri), 2023.
* Registration of application information
Please fill out the application registration form and register by the due date.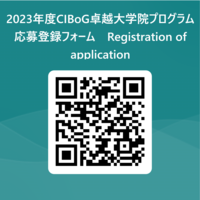 *Application period
Application registration: Saturday, April 1 to Tuesday, April 11 at 12:00
*Application Procedure
Upload application documents: Saturday, April 1 to Wednesday, April 12 at 12:00
*Application Package
Applicants can receive all the required documents from the CIBoG website.
Application_ENG2023.zip

1)Curriculum vitae: Use a designated CV format.
2)Short essay: A4 size, approx. two pages
Essay title: page 1: Your present research on your department and your future research
  page 2: Your expectation on the CIBoG program and your hope for the future
Students submit their CV and essay in person via TACT.

3)A recommendation letter from the academic advisor either in Japanese or English: Use a designated form.
The academic advisor submits a recommendation letter via email (cibog@med.nagoya-u.ac.jp).
*Secondary selection Method
・Secondary selection is an online group interview in English.
・Secondary selection will be scheduled at 13:00 on April 20 (Thu), 2023.
* Please introduce yourself including the essay that you submitted with your application form, "Your research in the undergraduate school and future research", "What do you expect CIBoG program?" and "Your hope and future direction" by using one Power Point Slide (16x9).
* Please submit a self-introducing slide before noon on April 18 (Tue), 2023. Details will be given after acceptance of primary selection.
・Results of secondary selection will be announced via email by the Office of CIBoG (Med) on April 21 (Fri), 2023.
Contact:
The Office of CIBoG
Graduate School of Medicine, Nagoya University
65 Tsurumai-cho, Showa-ku, Nagoya, 466-8550, Japan
Phone: +81-52-744-1946 / email: cibog@med.nagoya-u.ac.jp
URL: https://cibog.med.nagoya-u.ac.jp/en/