This program provides a curriculum to help students acquire knowledge in digital biomedical sciences and multilevel biomedical sciences. Students will also get a sense of globalization and diversity in order to foster the development of distinguished global leaders who are familiar with both informatics and biomedical sciences and able to bring their knowledge and experience back to society.
Digital biomedical sciences
For technologies to extract elements of big data such as electrocardiograms, electroencephalograms, clinical laboratory data, images, and medical records and to use this data to predict disease, deep learning and artificial intelligence (AI) are essential. Development of algorithms to realize such technologies will contribute to society through individualized preventive medicine and smart hospitals. For example, processing and integration of big data using AI in various levels of biomedical sciences including omics data, such as genomics as well as data on cells, individuals, and groups of persons will enable us to create new biomedical sciences for individualized preventive medicine by elucidating interactions and signaling between molecules that could not be found with traditional benchtop research.
This program provides students who major in biomedical sciences and informatics with education in data acquisition, primary analysis, probability theory and statistics, mathematical modeling, machine learning, image processing, biomedical sciences, and clinical medical sciences through classroom lectures as well as interdisciplinary laboratory studies.
Multilevel biomedical sciences
The field of biomedical science consists of multiple levels of molecules, cells, tissues, individual organisms, and groups of organisms. Scientists who have the ability to panoramically view each level and apply that view to research is needed. This program fosters the ability to understand each level through various multileveled fields of study such as neurology and oncology and to integrate levels across different study fields.
The program provides education in various fields including neuroscience, oncology, structural biology, genetics, chemistry, and informatics through partnerships with external institutions.
Sense of globalism and diversity
Students are expected to have a sense of globalism and diversity through various activities that begin as soon as the student enters graduate school, for example:
studying in overseas laboratories and receiving a joint degree through the Joint Degree Program (JDP)
conducting collaborative studies and participating in training programs at Global Alliance of Medical Excellence (GAME) member universities
participating in the Mansfield scientist program, a highly regarded international translational research training program
holding periodic meetings such as FLAN* meetings for students in the JDP and GAME member universities
participating in the mixed laboratory system
* "FLAN" is an academic alliance with 4 Joint Degree Program (JDP) partner universities; University of Freiburg, (Germany), Lund University (Sweden), University of Adelaide (Australia), and Nagoya University.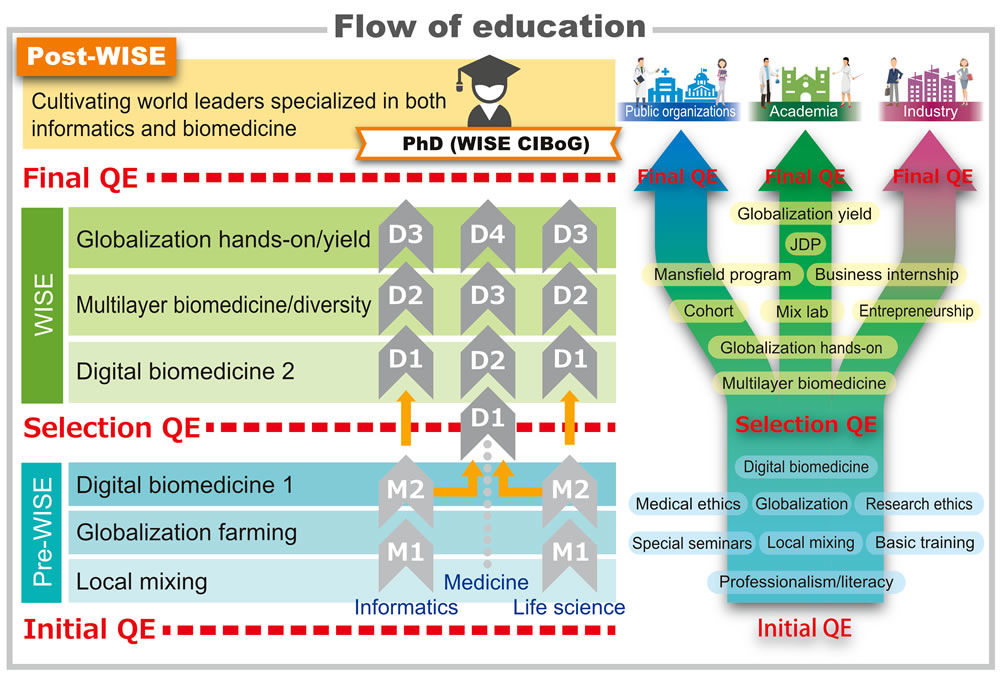 * WISE Program = Doctoral Program for World-leading Innovative & Smart Education
** QE = qualifying examination
*** Department in Integrated Medicine, International Collaborative Program
**** Graduate School of Medicinal Sciences, Graduate School of Bioagricultural Sciences, School of Health Sciences, etc.
Compulsory courses
Digital biomedical science (Number of credits required for completion: 25)
Multilevel biomedical science (Number of credits required for completion: 10)
Globalism and diversity (Number of credits required for completion: 10)
Other (Number of credits required for completion: 5)
Requirements for program completion
To receive a WISE Doctoral degree in Informatics and Biomedical Sciences, students must:
Fulfill the requirements of each graduate school
Successfully complete the credits for the compulsory or partially optional courses of this program (Digital biomedical science, Multilevel biomedical science, Globalism and diversity) and courses required by the Nagoya University Doctoral Education Consortium
Pass the final examination